From Head to Toe to Torso, DuPont Tate & Lyle Eco-Solutions on Display at the Outdoor Retailer + Snow Show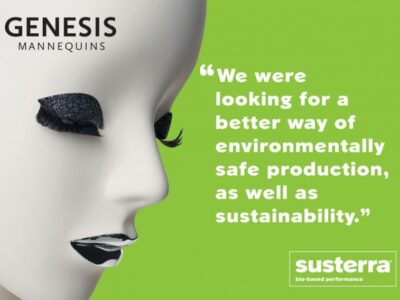 WILMINGTON, Del., Jan. 23, 2018 – The Outdoor Sports Industry will have a unique opportunity to investigate more sustainable products, everything from high-performance apparel to the mannequins that model them, at the 2018 Outdoor Retailer + Snow Show, Jan. 25-28, 2018. Front and center are solutions based on Susterra® propanediol from DuPont Tate and Lyle Bio Products which are used to help the industry put its highest performing, most sustainable foot forward.
Leading industry brands, retailers, reps and suppliers which make up the $887+ billion outdoor sports industry can see firsthand long-lasting, more sustainable apparel, footwear and mannequin innovations created in collaboration with DuPont Tate & Lyle. These state-of-the-art technologies – the building blocks for next generation materials – drive real progress toward reducing energy consumption and environmental impacts, a growing concern for consumers in the outdoor adventure and sports categories.
"We were looking for a better way of environmentally safe production as well as sustainability when we discovered Susterra® propanediol from DuPont Tate & Lyle," explained Andreas Gesswein, president, Genesis Display/Mannequin & VMM. "By letting our customers know that we are using a building block based on DuPont science gives our customers peace of mind knowing how DuPont Tate & Lyle prioritizes sustainability in their solutions."
GenesisDisplay GmbH (Genesis Display) was the first manufacturer in the world to produce mannequins with innovative and ecological raw materials. Its mannequins are produced with the largest possible percentage of organic material. The material consists of glass-fiber reinforced polyester and 47 percent high-quality bio resin. This bio resin is composed of 100 percent Susterra® propanediol developed by DuPont Tate & Lyle Bio Products. The use of the Susterra®propanediol in the bio resin ensures robust mannequins that are durable, longer-lasting and high-quality.
"It feels like a truly holistic approach to be able to supply the innovative building blocks which make up both the Genesis Display mannequins and the eco-friendly clothing they are modeling," stated Laurie Kronenberg, global marketing director, DuPont Tate & Lyle Bio Products. "With both mannequins and apparel being based on the same bio-based 1,3-propanediol building block, we are able to demonstrate the endlessly versatile potential for what can be achieved across the fashion industry with sustainable solutions."
The mannequins will be wearing a variety of new innovative apparel and footwear including the latest innovation from the CORDURA® + Susterra® + Sorona® brand collaboration. The eco-efficient soft shell technology leverages soft fleece based on Sorona® fibers as well as a waterproof Susterra® based membrane laminated to the durable CORDURA® Naturalle™ fabric.
Susterra® propanediol, the building block used for the mannequins, Sorona® fibers and Susterra® based membranes are manufactured through a proprietary process that uses glucose from natural raw materials instead of petroleum-based feedstocks. The basic materials can be derived from renewable, farm-grown sources including corn — making the promise of carbon neutrality and independence from petroleum a real possibility. From "cradle-to-gate," the production of DuPont Tate & Lyle Bio Products' bio-based 1,3-propanediol consumes 40 percent less energy and reduces greenhouse gas emissions by more than 40 percent versus petroleum-based 1,3-propanediol and propylene glycol.
AT THE SHOW:
These mannequins will be on display at the DuPont™ Sorona® brand booth 9010-LL and the INVISTA CORDURA® brand booth 54037-UL wearing durable sustainable apparel from the CORDURA® + Susterra® + Sorona® brand.
About Genesis Display
To hear more about Genesis Display and their relationship with DuPont Tate & Lyle Bio Products listen to Andreas Gesswein, president Genesis Display/Mannequin & VMM, https://www.youtube.com/watch?v=0jDHV3Amgh4&t=23s. Genesis Display is a company that is happy to invest in the long term and trust business relationships because they are the driving force behind our desire to become a little bit better every day. It is in their mission to be a reliable partner that identifies trends, develops concepts and designs, and constantly generates new ideas. www.genesis-display.com
About DuPont Tate & Lyle Bio Products
DuPont Tate & Lyle Bio Products is a joint venture between DuPont, a global science innovator, and Tate & Lyle, a world-leading renewable food and industrial ingredients company. DuPont Tate & Lyle Bio Products provides natural and renewably sourced ingredients that enhance product performance. For more information on Susterra® propanediol, visit https://susterra-performs.com and follow us on Facebook, Twitter and YouTube to see the solutions we offer across a wide variety of markets and applications.
About DuPont Industrial Biosciences
DuPont Industrial Biosciences, a business unit of DowDuPont Specialty Products Division, works with customers across a wide range of industries to make products and industrial processes more efficient and sustainable. Through a unique combination of agriculture, biotechnology, chemistry and material science capabilities, we advance market-driven, bio-based solutions to meet the needs of a growing population, while protecting our environment for future generations. For updates about how DuPont Industrial Biosciences is helping customers deliver cost-effective products with superior performance and sustainability, follow @DuPontBiobased on Twitter or visit our website at http://biosciences.dupont.com.
About DowDuPont Specialty Products Division
DowDuPont Specialty Products, a division of DowDuPont (NYSE: DWDP), is a global innovation leader with technology-based materials, ingredients and solutions that help transform industries and everyday life. Our employees apply diverse science and expertise to help customers advance their best ideas and deliver essential innovations in key markets including electronics, transportation, building and construction, health and wellness, food and worker safety. DowDuPont intends to separate the Specialty Products Division into an independent, publicly traded company. More information can be found at http://www.dow-dupont.com.
About CORDURA® Brand
INVISTA's CORDURA® brand essence celebrates individual durability: As Long As The World Is Full Of Durable People, We'll Keep Making Durable Fabrics™. Known for its resistance to abrasions, tears and scuffs, CORDURA® fabric is a primary ingredient in many of the world's leading high-performance gear and apparel products ranging from luggage, upholstery and backpacks to footwear, military equipment, tactical wear, workwear and performance apparel. The CORDURA®brand is a trademark of INVISTA, one of the world's largest integrated polymer, intermediates and fibers businesses. To distinguish the CORDURA® brand, the word "CORDURA®" must be spelled out in all caps and used with an ®, and it must be followed by the word "brand" or "fabric." To learn more about INVISTA's CORDURA® brand, end-use products, and marketing tools please visit http://www.CORDURA.com and follow us on Facebook, Twitter, Instagram, LinkedIn and YouTube.
About INVISTA
With leading brands including LYCRA®, COOLMAX®, CORDURA®, STAINMASTER® and ANTRON®, INVISTA is one of the world's largest integrated producers of chemical intermediates, polymers and fibers. The company's advantaged technologies for nylon, spandex and polyester are used to produce clothing, carpet, air bags and countless other everyday products. A wholly owned subsidiary of Koch Industries and headquartered in the United States, INVISTA has more than 50 locations around the world. For more information, visit INVISTA.com, Facebook.com/INVISTAglobal and Twitter.com/INVISTA.
# # #
01/23/18
CORDURA® is a trademark of INVISTA for durable fabrics.
DuPont™ and Sorona® are a trademark and a registered trademark of DuPont or its affiliates.
Susterra® is a registered trademark of DuPont Tate & Lyle Bio Products.