VIVOBAREFOOT Unveils Their new Bio Shoe line 'featuring the Primus Bio' at the Outdoor Retailer Winter Market Show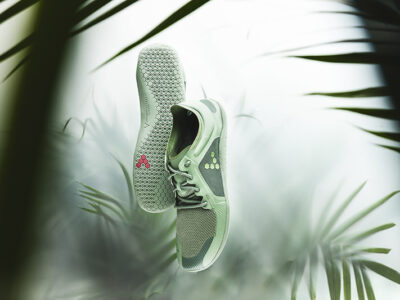 DENVER (Outdoor Retailer Show), Nov. 8, 2018—Leading global barefoot footwear company VIVOBAREFOOT today announced the launch of its new Bio shoe range featuring Primus Lite Bio on the new line of plant-based performance sneakers. Designed with outdoor performance in mind, the Bio range is made from a combination of three innovative bio-based materials that reduce reliance on petrochemicals and ultimately create more efficient and sustainable products. Each shoe in VIVOBAREFOOT's new line is nearly 50% plant-based, making it VIVOBAREFOOT's latest stride in their quest to use 90% sustainable materials across its entire product range by 2020.
The materials used in new Primus Lite Bio range are harvested by DuPont Tate & Lyle Bio Products, a joint venture between DuPont, a global science innovator, and Tate & Lyle, a world-leading renewable food and industrial ingredients company. Through the use of these renewable, high-performance materials, VIVOBAREFOOT is able to make a significant impact on the planet. Every 50,000 pairs of shoes produced using these materials, equates to saving greenhouse gas emissions from 247,948 miles driven by an average passenger vehicle or reducing CO2 emissions from 11,286 gallons of gasoline consumed.
"We are trying to make a significant impact through working with game changing brands like VIVOBAREFOOT who are committed to producing products with fantastic technical performance and improved sustainability profiles." stated Laurie Kronenberg, global marketing director, DuPont Tate & Lyle Bio Products. "In working with VIVOBAREFOOT on optimizing their plant based content throughout the shoe using various Sorona® fiber and Susterra® propanediol based solutions it allowed us to model the environmental reductions in terms of greenhouse gas emissions and nonrenewable energy on a raw material basis. Now that is impactful."
Seventh-generation shoemakers Galahad and Asher Clark are firm believers that barefoot shoe-making is sustainable shoe making. The company has already pioneered shoes made of repurposed algae (Ultra 3 BLOOM) with each pair recirculating 57 gallons of fresh water back into the natural habitats, and an Eco range made of 50 percent recycled plastic. In 2017, VIVOBAREFOOT diverted over 2 million plastic bottles from landfills into barefoot shoes.
"Sustainability is at the core of VIVOBAREFOOT's mission and we believe that the perfect shoe has minimal interference with natural movement and minimal impact on the environment," said Asher Clark, Design Director at VIVOBAREFOOT. "The new Primus Bio line champions the future of sustainable materials and the new opportunities they bring to the footwear industry."

The VIVOBAREFOOT Bio range will include the hero performance shoes Magna Trail BIO, Primus Trial BIO, Primus lite BIO and Ultra BIO shoes at the 2018 Winter Market Outdoor Retailer Show in Denver from November 8-10 at booth VO990-UL in the Venture Out section. Additionally, VIVOBAREFOOT will be exhibiting at the Media Preview event on Wednesday, November 7 from 5:00 p.m. to 7:30 p.m. in MR 113 of the Colorado Convention Center with representatives from DuPont and Asher Clark from VIVOBAREFOOT to talk about the products.
The Primus Lite BIO shoes will be available online at www.vivobarefoot.com/us starting June 2019 and priced at £120 and $160.
For additional information on VIVOBAREFOOT, visit https://www.vivobarefoot.com/us
About VIVOBAREFOOT
VIVOBAREFOOT launched in 2012 as a standalone brand, and is based in London, England. VIVOBAREFOOT is on a mission to change the footwear industry based on one simple insight—shoes should let your feet do their natural thing. The shoes feature a patented, ultra-thin, puncture-resistant sole in every shoe that protects the foot and allows maximum sensory feedback. Designed using ancient wisdom with modern technology VIVOBAREFOOT is a complete shoe collection for off road, exercise and everyday wear, as well as a line for kids. Created by two cousins from a long line of cobblers, Galahad and Asher Clark are on a quest to make the perfect shoe—perfect for feet. For more information on VIVOBAREFOOT, visit www.vivobarefoot.com.
Notes
Sorona® is a trademark of E.I. du Pont de Nemours and Company. Susterra® is a trademark of DuPont Tate & Lyle Bio Products Company LLC for its brand of bio-based propanediol. Bloom® is an ALGIX® Brand.